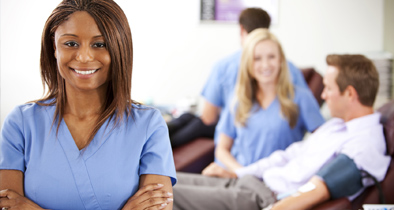 Nursing Jobs
If you're a nursing professional looking to use the latest innovations to define and drive significant change, we invite you to be a part of the dynamic and rewarding career opportunities available at our top-rated medical facilities. You'll soon see why there is no place like Hoag.
A Commitment to Education
At Hoag, you will be encouraged and supported to advance your career through higher education and training. We provide a variety of programs designed to assist nursing professionals who want to enhance their education, such as:
Clinical Ladder Program
Continuing Education Reimbursement
Onsite RN to BSN and MSN Programs
On-site Continuing Education (CE) Program
Scholarships
Tuition Reimbursement
Watch jobs in this category

There are currently no open positions matching this category or location.
Receive emails by subscribing to jobs matching Nursing Jobs when they are posted.
The 10 most recent jobs posted by Hoag Memorial Hospital Presbyterian are listed below for your convenience.
Results 51 – 10 of 10
Page 6 of 1
Search results for "". Page 6 of 1, Results 51 to 10
Job Title
Job Function
Location
Date
Job Type
Shift
LVN -PALLIATIVE CLINIC

Newport Beach, CA, US

May 28, 2020

0.00 mi

Nursing

1st

Full Time

CA

Newport-Beach-LVN-PALLIATIVE-CLINIC-CA-92657

MEDICAL ASSISTANT - 4900 BARRANCA URGENT CARE

Irvine, CA, US

May 28, 2020

0.00 mi

Allied Health

1st

Full Time

CA

Irvine-MEDICAL-ASSISTANT-4900-BARRANCA-URGENT-CARE-CA-92602

IT PROJECT MANAGER - EPIC

Costa Mesa, CA, US

May 27, 2020

0.00 mi

Information Technology

1st

Full Time

CA

Costa-Mesa-IT-PROJECT-MANAGER-EPIC-CA-92626

Environmental Services Technician - Environmental Services

Newport Beach, CA, US

May 27, 2020

0.00 mi

Support Services

1st

Part Time

CA

Newport-Beach-ENVIRONMENTAL-SERVICES-TECHNICIAN-ENVIRONMENTAL-SERVICES-CA-92657

Environmental Services Technician - Environmental Services

Newport Beach, CA, US

May 27, 2020

0.00 mi

Support Services

3rd

Part Time

CA

Newport-Beach-ENVIRONMENTAL-SERVICES-TECHNICIAN-ENVIRONMENTAL-SERVICES-CA-92657

LAB ASST PATHOLOGY NON LICENSE - PATHOLOGY

Newport Beach, CA, US

May 27, 2020

0.00 mi

Allied Health

1st

Full Time

CA

Newport-Beach-LAB-ASST-PATHOLOGY-NON-LICENSE-PATHOLOGY-CA-92657

PHARMACIST - CLINIC - HOAG CLINIC

Costa Mesa, CA, US

May 26, 2020

0.00 mi

Allied Health

1st

Full Time

CA

Costa-Mesa-PHARMACIST-CLINIC-HOAG-CLINIC-QUALITY-IMPROVEMENT-CA-92626

EPIC IT DIRECTOR AMBULATORY TECHNOLOGY & APPLICATIONS - HMG CLINIC EPIC

Newport Beach, CA, US

May 26, 2020

0.00 mi

Information Technology

1st

Full Time

CA

Newport-Beach-EPIC-IT-DIRECTOR-AMBULATORY-TECHNOLOGY-&-APPLICATIONS-HMG-CLINIC-EPIC-CA-92657

FRONT OFFICE ASSISTANT - UROLOGY

Newport Beach, CA, US

May 26, 2020

0.00 mi

Allied Health

1st

Full Time

CA

Newport-Beach-FRONT-OFFICE-ASSISTANT-UROLOGY-CA-92657

STRATEGIC ANALYTICS ANALYST II - STRATEGIC ANALYTICS

Newport Beach, CA, US

May 25, 2020

0.00 mi

Business Services

1st

Full Time

CA

Newport-Beach-STRATEGIC-ANALYTICS-ANALYST-II-STRATEGIC-ANALYTICS-CA-92657