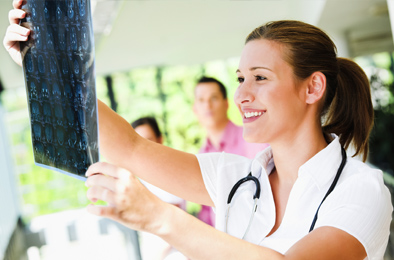 Nursing at Hoag
If you're a nursing professional looking to use the latest innovations to define and drive significant change, we invite you to be a part of the dynamic and rewarding career opportunities available at our top-rated medical facilities. You'll soon see why there is no place like Hoag.
A Commitment to Education
At Hoag, you will be encouraged and supported to advance your career through higher education and training. We provide a variety of programs designed to assist nursing professionals who want to enhance their education, such as:
Tuition Reimbursement - We'll provide you with an excellent means to obtain a degree or enhance your professional environment and practical expertise. Education that leads to a degree or advanced degree, relates to your current occupation, or will lead to a hospital profession, is supported through this comprehensive program.
Scholarships - We award annual scholarships to nurses pursuing either a Bachelor's or Master's degree in Nursing. Selection criteria include: financial need, professional growth, accomplishments in specialty and critical care areas, community and civic involvement and the applicant's contribution to the nursing profession as well as the organization.
Onsite RN to BSN and MSN Programs - We offer RN to BSN, MSN and Family Nurse Practitioner programs in partnership with California State University, Long Beach. Many classes are provided at Hoag with MSN classes leading to a Clinical Nurse Specialist or Nurse Practitioner specialty associated with your degree in a choice of several specialty areas. In addition to offering you a convenient method for pursuing an advanced degree, these programs benefit our patients through your enhanced education.
On-site Continuing Education (CE) Program - In order to help you maintain your licensure and certification and to encourage your Professional Growth, we offer more than 60 on-site continuing education courses taught by a team of 10 nurse education coordinators/clinical nurse specialists along with other resource nurses. Instructor-directed educational courses are offered in a variety of specialties, such as general, critical care, maternal-child nursing along with unit-specific, and hospital-wide training and development. Computer-assisted and self-learning modules are also offered to Hoag's nursing staff free of charge.
Continuing Education Reimbursement - Hoag also offers employees in designated positions Continuing Education Reimbursement for courses that enhance your career, but do not lead to a degree or certificate.
Clinical Ladder Program - Hoag's Clinical Ladder recognizes achievement, promotes professional growth and rewards Registered Nurses for their excellent performance in clinical practice. Through your involvement in continuous quality improvement activities, preceptorship, research and education, you help to ensure a high level of expertise in the delivery of nursing care to patients and families. That's why we're pleased to enable you to gain an advanced degree, monetary compensation, recognition and the opportunity to participate in one of many clinical practice councils.
At Hoag, you'll discover a culture where you can make the most of your skills and dedication as you pursue your highest professional and personal goals. You'll find an environment that values your judgment, encourages your input, and supports your career aspirations.
As a trusted and nationally respected health care leader, Hoag's mission is to provide the highest quality health care services to the communities we serve. We make significant investments in the growth and development of our employees as well as in our technological capabilities.
Our organization and the industry are evolving and for this very reason we seek those who can embrace, define and drive advancement within health care.
If you would like your career to be enriched by growth, technological advancement and the opportunity to influence exciting changes, consider making Hoag your career choice.